Article for NACN-USA newsletter.
The Diocese of Birmingham in Alabama Council of Catholic Nurses (DBACCN) and Fr. Joseph Lubrano, SDS (Salvatorian priest) hosted the Holy Sacrifice of the Mass for the intention of all the victims of the pandemic, its imminent cessation and all healthcare workers and caregivers. This was followed by the Sacrament of the Anointing of the sick. A relic of Blessed Hanna Chrzanowska, RN, the first lay Catholic registered nurse to be beatified, was present and will be enshrined a small chapel at St. Joseph Catholic Church in Huntsville, Alabama, USA.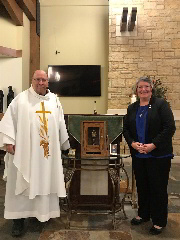 Fr. Joseph Lubrano, SDS and pastor of St. Joseph Catholic Church began the Holy Sacrifice of the Mass with an insightful explanation of the World Day of the Sick, its origin and the message of His Holiness Pope Francis. He noted that it was the 30th anniversary.
Diana Ruzicka, MSN, PHN, RN, DBACCN member and Immediate Past President, National Association of Catholic Nurses, U.S.A., then followed with a short biography of Blessed Hanna Chrzanowska, RN and Blessed Hanna's connection to Pope St. John Paul II, World Day of the Sick and the Salvatorians.
After being fired by communist authorities from both her post as Chair of Community Health Nursing and then the Psychiatric Nursing program, Blessed Hanna started Parish Nursing in the Diocese of Krakow. In this ministry she brought Fr. Wojtyla on home visits to the sick and home bound and coordinated offering the Holy Sacrifice of the Mass in the home in communist Poland. Together they started a day of prayer for the sick on the Feast of Our Lady of Lourdes in Krakow which, as Pope John Paul he made a Feast for the universal church in 1992. Her Salvatorian connection was that with very few phones, cars and wheelchairs Blessed Hanna coordinated retreats for the homebound to the Salvatorian retreat center in Trzebinia, outside Krakow, Poland.
Diana also reviewed the miracle that resulted in her beatification on April 28, 2018. This was the miraculous healing of a nursing student who was also a fellow instructor who suffered a ruptured brain aneurysm and was in a coma for 6 weeks. The doctors voiced no hope of recovery. However, the nurses of the Krakow Catholic Nurses Association prayed in union for Sofia's recovery. As they were praying, Anna, one of the nurses, felt and interior voice telling her to go to the hospital. There she found Sofa wide away sitting at her bedside, asking to be taken to the chapel and to a priest. Later Sofia revealed that as she was losing consciousness, Blessed Hanna came to her and said, "Sofia, you will be alright."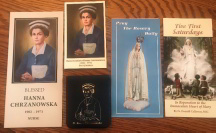 All attendees received A Blessed Hanna rosary which was blessed by Fr. Gubała and touched to Blessed Hanna's sarcophagus at St. Nicholas Church in Krakow Poland, a Blessed Hanna holy card and trifold pamphlet, Mysteries of the rosary and Five First Saturday pamphlets.
Blessed Hanna's relic was displayed in the sanctuary in front of the ambo at the Saturday vigil and Sunday, Holy Sacrifice of the Mass. May God bless all and may Blessed Hanna and the Blessed Virgin Mary intercede for an end to the pandemic and all restrictions. BhamCatholicNurses@gmail.com